Invisalign® Clear Aligner Therapy

in Prosper, TX
If you've always dreamed of having a straighter smile but don't want to go through the hassle of wearing clunky metal braces, Invisalign may be an excellent option for you! Invisalign is well known for its advanced orthodontic technology and comfortable clear aligners that are virtually invisible on the teeth. To learn more about Invisalign or schedule your next visit with our team, please contact us!
Contact Us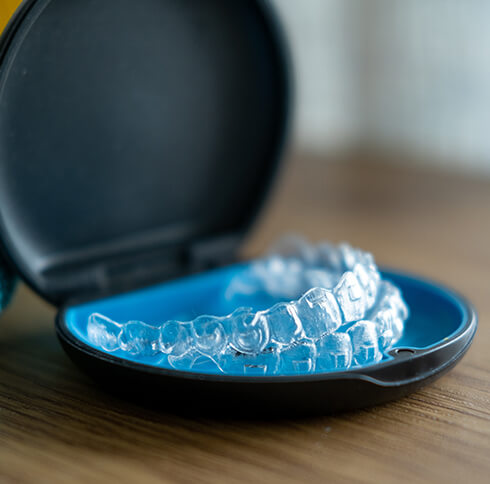 Step One:
Schedule Your Free Consultation
Our team offers complimentary Invisalign consultations, which are designed to achieve a few things. Firstly, we want to determine if the patient is a good candidate for Invisalign. We will also explain the treatment process in detail and answer any questions that you may have regarding treatment (please bring your questions, we'd love to answer them!) Our team can also go over our financing options with you and give you an estimate for how long your treatment will likely take.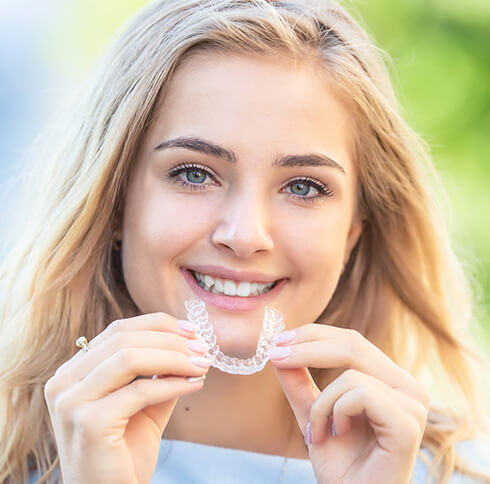 Step Two:
Begin Your Treatment
Invisalign uses the advanced technology of iTero scanners to quickly capture highly accurate digital impressions. With iTero, a small device is run over the top, bottom, and sides of the patient's teeth, capturing thousands of images. These images are then used to create custom aligners—no dental putty required! Once your new aligners arrive in a week or two, we will schedule an appointment for you to try them on, take them home, and begin wearing them.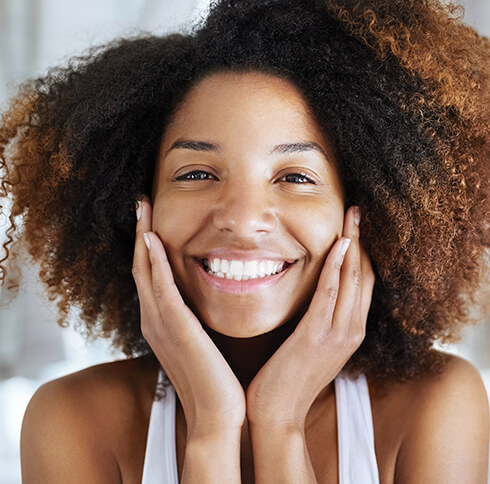 Step Three:
Show Off Your New Smile!
With clear aligners, there isn't a dramatic "big reveal" as there is with traditional metal braces because clear aligners are transparent. However, the satisfaction of removing your clear aligners for the final time and revealing a flawlessly straight smile is incomparable. To maintain the desired alignment, our team will also take new impressions of your teeth to craft personalized retainers for nightly wear.
Invisalign Success Stories
We've helped many patients achieve beautiful, symmetrical smiles quickly and effectively—but don't just take our word for it!
---
Frequently Asked Questions
How often will I have to wear my Invisalign aligners?
We recommend that patients try to wear their aligners between 20 and 22 hours per day or any time they are not eating, drinking something besides water, or brushing their teeth. Wearing your aligners as directed will help your treatment plan stay on track, and before you know it, your treatment will be complete!
What can I eat with Invisalign?
One of the biggest benefits of clear aligner therapy is that patients can continue eating their favorite foods with no worries, as Invisalign aligners are completely removable. While it may be tempting to eat something while wearing aligners every once in a while, doing so can stain and damage them.
Is Invisalign painful?
Despite Invisalign using gentle force to shift teeth, it's not uncommon for patients to feel some discomfort or pain during treatment, especially at the beginning. However, it shouldn't be anything that over-the-counter pain medication can't relieve. If your teeth and gums are still sore after a week or two, please let our team know so we can examine your clear aligners and ensure that they fit well.
What happens if I don't wear a retainer post-treatment?
Wearing your retainer is crucial, as your teeth will likely begin to shift back to their original positions otherwise. Our retainers are also designed and created with our iTero scanners, just like our Invisalign aligners. Should you ever break or lose your retainer, please let our office know as soon as you can so we can get a new one created for you as quickly as possible.
Treatments starting as low as $99/month!
For more information, please call 972-347-1145.
Schedule Consultation